1627 South Orchard, Suite 24, Boise, Idaho 83705
208-345-7178
LDS Church Work
Caldwell, Idaho
Remodeling Work:
Remodel Caldwell Ward Building for Design West Architects.
Click a picture to enlarge it.
Before: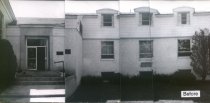 After:
Associates are certified by the National Council of Architectural Registration Boards (N.C.A.R.B.)
And are licensed in several western states.
UNAUTHORIZED REPRODUCTION WILL BE PROSECUTED
© Copyright 2002 - 2008 AP&D Group. All rights reserved.